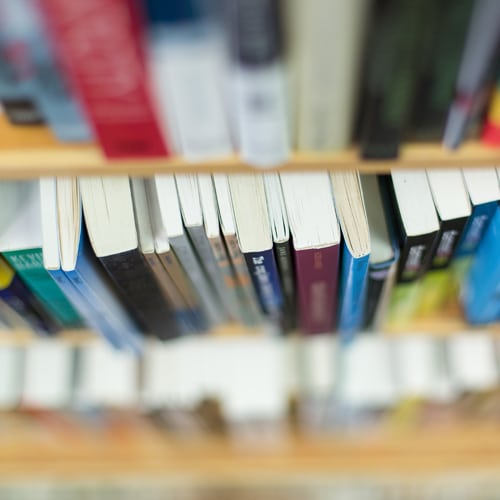 Distribution and Fulfillment
Beautiful Books are Just the Beginning
Our Itasca Books division provides full-service distribution to help small and large publishers reach their markets. Itasca Books operates its own order processing, warehouse, and shipping facilities in close coordination with Bookmobile. Keeping these essential functions in-house enables us to offer highly cost-effective distribution services for publishers and responsive customer service for book buyers.
About Distribution and Fulfillment Services
The work of finding an audience is one of the most challenging parts of the publishing process. Book buyers fit into a variety of categories. They include wholesalers and distributors who agree to stock a book in inventory, retail booksellers who make it available for sale, librarians who catalog and collect the book for public use, and retail customers in stores and at author events. Itasca Books fulfills both consumer and book trade orders for Bookmobile. Itasca sells to Amazon, Ingram, Baker & Taylor, Barnes & Noble, and hundreds of independent bookstores, retailers, and specialty wholesalers, including, but not limited to: Books-A-Million, Brodart, Follett Higher Education Group, Follet Library Resources, Mackin, MBS Textbook Exchange, over 325 other retailers, over 71 other libraries, and over 67 other wholesalers. Consumer orders can be placed via Itasca's toll-free 800 number, fax line, mail, and book selling website, 
www.itascabooks.com
. These options are provided for every title, along with electronic credit-card order processing, Direct-to-Consumer services, and mail order. Itasca Books is available via email or telephone to take orders, answer questions, and solve logistical problems.
About Itasca Books
Warehousing: 
Itasca Books stores books in a dry, heated warehouse.
Metadata:
Itasca Books disseminates ordering information, publication data, and a cover image (provided by the publisher) to book trade databases, including those published by RR Bowker, Baker & Taylor, Amazon.com, and Ingram Book Company. The book trade includes online bookstores, brick-and-mortar bookstores, book wholesalers, and other resellers that utilize Bowker, Baker & Taylor, or Ingram databases for ordering books.

Because of the consortium arrangement offered by Itasca Books, small publishers have the advantage of getting into major distribution chains and of combining titles for sales with other publishers.
Website:
Itasca Books maintains a web store to accept consumer orders for publisher's title(s) at www.itascabooks.com. The site processes credit card information, and orders are picked, packed, and shipped. Any customer service issues related to the order are also handled. Publishers can use the site for direct web links, advertising, and promotional activities.
Name:
Itasca is the small glacial lake in northern Minnesota that is the headwaters of the Mississippi River. The nineteenth-century explorer Henry Schoolcraft created the name by combining parts of a Latin phrase – Veritas Caput, or "truth head," sometimes translated as "true head."
Frequently Asked Questions about Itasca Books and Print Book Distribution
Q:
 What is the retail book trade?
A:
 The retail book trade consists of the network of bricks-and-mortar and online bookstores, wholesalers, distributors, and other entities that make books commercially available.
Q:
Why is distribution so important?
A:
 Almost all bookstores–including Internet retailers–prefer to obtain stock from a wholesaler or distributor, because it relieves them from the burden of dealing with hundreds or thousands of  small publishers. Because Itasca Books is well-connected within the book trade, contracting for distribution makes it possible for retailers to easily order and carry your books. Without this important link, it can be difficult, if not impossible, to make a publisher's books available to the world through the established retail outlets.
Q:
What are the primary distribution channels for books?
A:
 The key to retail book sales is to ensure the book is widely available through the established wholesale and retail distribution channels. Itasca Books maintains relationships with all of the major wholesale and retail book distribution outlets, allowing it to place its titles in these systems. Note that being available to the trade is only one part of the successful sale of a book. The other part is creating demand through marketing and publicity.
Q:
Who fills the orders?
A:
 Every publisher can sell significant numbers of their books directly at readings, performances, and book signings. For all other distribution channels—retail and wholesale orders, special orders for events, individual direct sales—most publishers need a commercial partner like Itasca Books to provide fast and efficient order fulfillment.
Q:
Who keeps track of my inventory and orders additional printings prints run low?
A:
Many publishers don't like to think about inventory management. They'd rather be promoting their books, building their list, and working on forthcoming titles. A partner like Itasca Books will track inventory, order reprints as necessary, and fill orders as they are placed.
Q:
How many books will I sell?
A:
 No one can reliably predict the sales of any title. That's why the flexibility of short-run digital printing is so valuable to publishers. We can economically print smaller first editions, and reprint as demand materializes. Promotional efforts drive demand, and Itasca Books will ensure availability and fulfillment. Actual sales will depend on many factors, including competition, a clear and focused PR campaign, and willingness to explore every possible sales avenue.
Q:
Whom should I contact for more information?
A:
 Please contact
Mark Jung
.