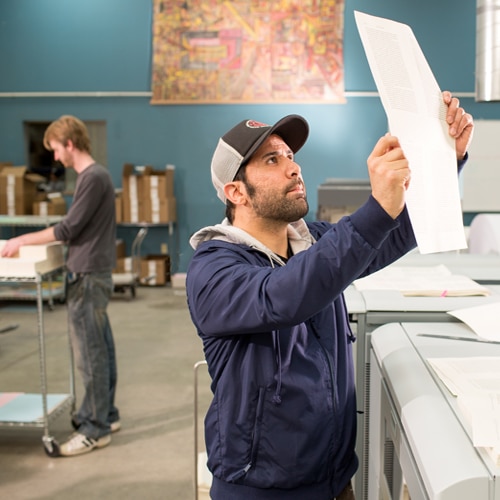 Art Book Printing
We Are the Book Printer for You
We will print your books right and keep them on schedule. At Bookmobile, we offer the perfect balance between technical innovation and traditional book-printing values for art book printing. Join our client list of museums, galleries, and artists and have your book handcrafted with a level of care that matches your own. Our prices are competitive and our service is second to none.
About Art Book Printing
Bookmobile offers undeniable advantages over offset or overseas printing.
First, books are Bookmobile's sole focus. Our staff members are artists, craftspeople, and musicians: they are immersed in the world of books, and they respect the work, love, and time that goes into each and every one.
Second, the Bookmobile print shop is in Minneapolis, Minnesota, where every single step of the process (with the exception of the manufacturing of the metal dies for foil stamping and larger hardcover runs) is done in house. Bookmobile carefully oversees each element of book production and constantly works to maintain the highest quality standards.
Third, Bookmobile offers incredibly flexible options. Add French flaps, add a color insert to a black-and-white interior, or use a square trim size up to 12". See our Gallery for more options and inspiration, and get a quote from us today.
Fourth, Bookmobile offers the advantage of color accuracy. Forget blue-line, Epson, or Kodak proofs. Bookmobile proofs come directly from the printer and on the final-run stock. Clients know exactly what their finished books will look like. To ensure clients achieve their vision, Bookmobile offers an opportunity to adjust color on a pre-proof sample.
Finally, Bookmobile offers incredible responsiveness to tight deadlines. When museums and galleries have event-contingent deadlines, they turn to Bookmobile. We print both paperbooks and hardcovers quickly and meet the most inflexible deadlines whenever physically possible.
Ultimately, Bookmobile provides top-quality products that enable our clients to improve cash flow with smaller print runs. Why pay for an offset print run of 4,000 books—and for warehousing for five years or more—when Bookmobile allows print runs of 200 books with reprints as necessary? While Bookmobile's unit cost is not as low as offset printing, the ease of the strain on client cash flow and the significant savings on warehousing make up the difference … and often then some.
Read about why Cardozo Fine Art, Greenpoint Press Art Books, Cabinet Magazine, The Montclair Art Museum and others say that Bookmobile is the best fit for them.
Bookmobile Presses for Art Book Printing
Black-and-White Printing:
At Bookmobile, black-and-white interiors print on Océ VarioPrint 6320s. The Océ VarioPrint 6320 offers speed and dexterity. It prints at 600 x 1200 DPI at a 125-line screen. It is also a perfector—it prints both sides of the sheet in one pass. This means that Bookmobile prints books quickly and can fine-tune alignment so the pages always back up extremely well.
Like the rest of Bookmobile's printers, the Océ VarioPrint 6320 is a toner-based printer. Unlike other printers, the Océ's VarioPrint uses incredibly advanced Copy Press technology. This technology uses a lower temperature than other digital printers to fuse toner to the paper. Less heat means less paper curl and a crisper image. To find out even more about what sets Bookmobile's equipment apart, read about why our CEO, Don Leeper, is excited about Océ VarioPrint 6320s.
Clients can also choose Bookmobile's color printers for black-and-white printing. Bookmobile uses the flexible Xerox Iridesse or Versant. These presses enable prints in black ink only or in a 4-color rich black. For black-and-white printing, the Xerox prints at 2400 x 2400 DPI at a 200-line screen. Clients can choose from two combinations: Bookmobile can print entire black-and-white interiors on a Xerox, or Bookmobile can print halftone inserts on a glossy coated stock, or any other stock, and print text on the Océ VarioPrint 6320.
Color Printing:
Most color interiors and covers print on the Xerox Iridesse or Versant. The Xerox Iridesse and Versant prints at 2400 x 2400 DPI at a 200-line screen. Both use less fuser oil than previous digital color printers, so deliver a smooth, offset-like finish, and the color is more pure. As books and covers print, they are automatically calibrated and adjusted for color, so even a long print run has consistent color throughout.
The Xerox prints outstanding midtones, crisp text, pure neutrals, detailed shadows, and bright highlights. It offers excellent photo rendering.
Books print CMYK. If a Pantone color or RGB is specified instead, the Xerox converts it to CMYK. Clients can always view sample pages to ensure the seamlessness of the conversion.
For larger formats, like a dust jacket for an 11-1/2" square trim size, Bookmobile uses the Konica Minolta PRO C5501. This press prints at 600 x 1800 DPI at a 175-line screen. Its Simitri® HD Color Polymerized Toner uses smooth, tiny granules to sharpen text, enhance fine detail, and print a wide range of color with rich tones.
Preflight for Art Book Printing
Whether printing in black and white or in color—or in any combination thereof—quality control starts in preflight. Bookmobile does not simply drop files into a hot folder to check for issues. Our dedicated, experienced staff opens each file and checks for fonts, margins, image integrity, dimensions, bleeds, and more. If an issue is detected, Bookmobile checks with our client before proceeding.
Print Production
After the interior proof is printed, two members of Bookmobile's press team check pages for alignment, page count, missing type or images, spots, print density, fonts, line breaks, and sufficient margins for binding.
After the cover proof is printed and laminated, two members of Bookmobile's press team check the proof for color, dimensions, spine width, and correct ISBN, and verify that the bar code scans, the images are correct, no type is too close to the trim, and the bleeds are sufficient for binding.
As a final step, a customer service representative looks over proofs one more time before sending them back to the client.
Once the proofs are approved and production begins, Bookmobile checks over 60 criteria to constantly monitor and ensure the highest quality production. At each step, two members of the Bookmobile team must sign off.
A sample of Bookmobile's Comprehensive Quality Check includes the following questions:
Are all pages present?

Is print quality maintained throughout the run?

Does the final printing match the approved proofs?

Does the binding have enough glue?

Is the spine straight and centered?

Is the spine square and not rounded?

Is the foil stamp clean and solid?

Is the foil stamp positioned correctly?

Are the trims clean and to the correct dimension?

Are the margins to spec, are any crop marks showing?

Do the spreads align?

Is the print density okay?

Are there any clamp marks from the binder or trimmer?

Is the spine unwrinkled?

Is there any excess glue?

Do the cover and pages hold tight when pulled?

Is the lamination correct?

Is the cover stock correct?
If any of the questions cannot be answered with an unqualified yes, Bookmobile halts production and corrects the issue. If Bookmobile needs clarification, a customer service representative immediately contacts the client.
Postproduction for Art Book Printing
Perfect Binding:
The Bookmobile binding line produces cleanly trimmed, perfect bound galleys and trade paperbacks in any portrait or landscape dimension from 3″ x 4″ up to about 12″ square, depending on the page count and interior stock chosen.
No detail is too small—and all books are perfect bound with two types of glue.
With our perfect binders using EVA glue, on the spine, Bookmobile uses a super-aggressive glue for a durable bind. The spine glue hardens when it dries (but is still flexible enough so a paperback can be opened with ease) and dries white, not the unattractive yellow visible in some books.
For books that have interiors printed on coated stock, we use our PUR binder. PUR glues are stronger and more flexible, but require 24 hours of drying before we can trim and pack.
Bookmobile also uses side glue. This glue is not visible, but goes between the front inside cover and the first interior page, and the back inside cover and last interior page. It is a pressure-sensitive adhesive that is more flexible than the spine glue and stays flexible when it dries.
Hardcover Binding:
Bookmobile offers superior quality short-run hardcover binding. Books are perfect bound and cased in for library-quality durability and readability. Standard hardcover bindings are available in four sizes: 5-1/2″ x 8-1/2″; 6″ x 9″; 7″ x 10″; and 8-1/2″ x 11″.
We also welcome odd trim sizes, portrait or landscape, up to 12″ x 12″.
Standard features include:
End sheets in natural, white, custom color, or printed.

Square spines.

Foil stamps on spine, front, or back (size specified by client).

Dust jackets with gloss, matte, or soft-touch velvet matte lamination.

4-color case wraps.
Spiral and Drilled Binding:
For training manuals, reference manuals, workbooks, cookbooks, and other materials that require maximum flexibility, choose convenient plastic spiral or wire-o bindings.
Paper Stock:
For paperback covers, clients choose from white 10- or 12-pt. C1S, uncoated colored card stock in a variety of colors, or client-provided custom letterpress or screen-printed covers. For hardcovers, clients choose a plain paper case, cloth, or printed case. Bookmobile prints dust jackets on 100-lb. C2S with either gloss, matte, or soft-touch velvet matte lay flat film lamination. For interior stock, Bookmobile offers cream/natural or white uncoated stock from 50 to 100 lb. Bookmobile also carries 70-, 80-, and 100-lb. coated white gloss and matte stock.
Customizable Options for Art Book Printing
Clients have a wealth of options at Bookmobile, and our team members are always excited to try something new. See the Gallery for images and inspiration, and tell us about your ideas.
Choose full color fold-out inserts in a black-and-white interior.

Choose black-and-white fold-out inserts in a black-and-white interior.

Choose gold or silver foil stamp on a paperback cover, laminated or uncoated.

Emboss or deboss a paperback cover or dust jacket, printed or not printed, laminated or uncoated.

Choose foil stamped or embossed or debossed covers.


Add colored end sheets to a paperback.

Use a printed case for a hardcover.

Add French flaps.

Wrap a paperback with a full or partial dust jacket.

Wrap a hardcover or paperback with a translucent vellum dust jacket.

Add translucent vellum interior pages to overlay a guide on a map, printing black ink only or color.

Print on the inside of the front and back cover, black ink only or color.

Provide letterpress or screen-printed covers to be bound onto printed interiors.
Contact Bookmobile for more information, or find more printing specs and information on our Digital Book Printing Page.
More Questions?