Are you an artist who wants to create a coloring book ? Intricate Insects from Martha Iserman is a great example of how to bring a beautiful and professional adult coloring book to life.
---
---
The Artist
Martha Iserman is an artist and science illustrator, and she works with entomology and invertebrate zoology departments from museums and research institutions. Martha lives in Northern California—but she used to live in Minnesota, and we were lucky to have her working in our color printing department for a while. Inspired by the insects she's drawn and worked with, Martha decided to create a coloring book, Intricate Insects.
Creating the Coloring Book
Martha has worked on the coloring book pages for the last three years. Along the way, she invited feedback from friends and found some wanted a more challenging design and others preferred a simpler design. Her brilliant solution was to incorporate finer details to each illustration with a light grey line—the user can either color over the light lines or follow them to see a more detailed and intricate pattern. It's a choose-your-own-difficulty coloring book!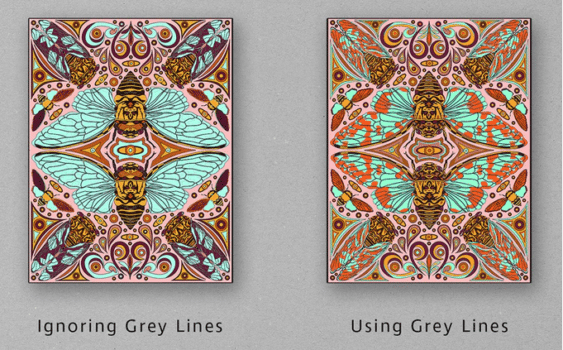 The Kickstarter
Martha funded Intricate Insects with a Kickstarter campaign; her goal was $3,000 and she raised $4,424! Backers received everything from a PDF download of color pages, to a fantastic octopus print, to a custom pet portrait. Bookmobile works with a lot of Kickstarter creators, and this isn't our first Kickstarter coloring book either—see Cats and Kickstarter Coloring Book Printing to be charmed by a cat named Mr. Eggs.
Coloring Book Printing
Even though Martha is a former Bookmobile employee, that was no guarantee she would print with us! I worked with Martha on a few iterations of estimates to fit her budget. We also printed a few test pages for her, too, to be sure the grey lines of detail were visible, but still light enough to color over. For the interior, Martha chose our 100-lb. uncoated white stock at 284 PPI (pages per inch). At 72 pages, we perfect bound it with a 4-color cover on 10-pt. C1S stock with lay-flat gloss film lamination. From Martha,
Working with Bookmobile was a breeze. They took their time to make sure all of my questions were answered, and they provided me with paper samples and printing proofs so I could compare and make the right choices for my project. I'm thrilled with how the book turned out and so happy I chose Bookmobile.  I will definitely use them again for any reprints and future projects.
The end result is a fantastic coloring book and you can purchase a copy on Etsy.
Why Bookmobile to Create a Coloring Book?
Bookmobile provides custom book manufacturing; no cookie-cutter templates or trim sizes to adhere to here. We produce everything in house, and we only produce books. So the collected know-how of our experienced staff goes into every book we produce. Our minimum run is 25 copies—we could not maintain our high quality standards and breadth of options if we were only printing one copy of a book. From you, we require print-ready PDF files; our Support page will guide you on file prep and our color printing parameters.
For custom coloring books, we offer paper from 50- to 100-lb. in weight, white or natural. Most of the coloring books we print are on at least 60-lb. weight. For binding, we offer perfect binding, plastic spiral binding, and wire-o binding. Perforated paper is also available, but limited to 50- or 60-lb. white, a run of at least 100 copies, and a trim size that is 8-1/4″ x 10-3/4″ or smaller.
Why Bookmobile for a Kickstarter?
Bookmobile provides all the services a Kickstarter publishing project might need: graphic design and typesetting, eBook conversion, printing, distribution, and fulfillment. Our short-run print quality is excellent, our pricing is affordable, and we offer many options, like square trim sizes, translucent vellum inserts, foil stamping on paperback covers, and more. Browse our Gallery to see the full breadth of what we offer! And with a minimum run quantity of just 25 copies, Kickstarter creators can print short runs and order reprints as needed—which means no worries about storing inventory or cash flow complications.