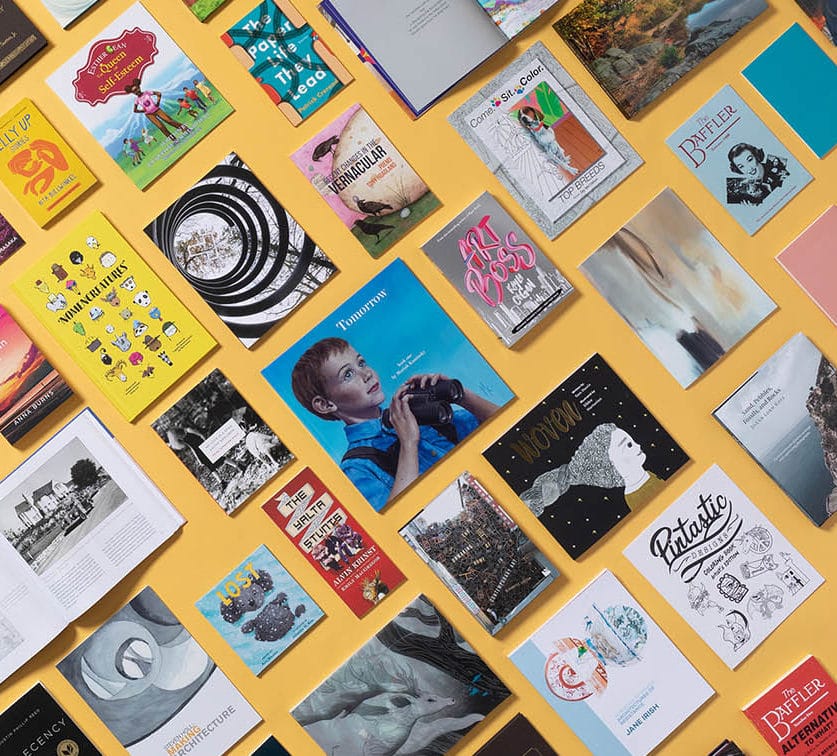 Digital Book Printing
We Are the Book Printer for You
We will print your books right and keep them on schedule. At Bookmobile, we offer the perfect balance between technical innovation and traditional book-printing values. Our book printing prices are competitive and our service is second to none.
About Digital Book Printing
Unlike other short-run digital book printers, Bookmobile is the only short-run digital book printer that provides a wide range of flexible trim sizes, color inserts, foil stamping on paperback covers, debossing, embossing, translucent vellum dust jackets or inserts, end sheets for paperbacks, French flaps, and more. See our Gallery for a sampling of the incredible variety we offer.
Bookmobile began as a design and typesetting firm working with distinguished publishers such as Graywolf Press and University of Minnesota Press. Our Comprehensive Quality Check services are based on 32 years on the production line ensuring that every detail is right. When quality, cost, and schedule are paramount, museums, galleries, artists, university presses, and literary presses choose Bookmobile.
Choose from Flexible Options
Quantity:
Minimum print runs of 25 copies.
Maximum print runs of 3,000 copies per order.
In special circumstances (such as when a publisher wins an award and needs books more quickly than can be provided by an offset printer), maximum print runs of up to 6,000 books.
Warehousing and fulfillment (drop ship) services.
Page Count:
Print and bind as few as 16 pages or as many as 1,430 pages, depending on interior paper.
Even-number page counts. (Bookmobile prints in pages, not signatures, so page counts do not need to be divisible by 8, 16 or 32, as with traditional printing.)
Trim Size:
Standard, specialty, and custom trim sizes in portrait or landscape—as large as 12″ square.
Odd trim sizes for paperback and hardcover.
Color:
Bookmobile prints all color 

CMYK

.
All quotes assume cover will print CMYK with 

bleeds

.
Print entire interiors in color or add color inserts to black-and-white interiors.
Perfect Binding:
Five perfect binding lines, including a PUR binder for interior with coated papers.
Cleanly trimmed, perfect bound galleys and trade paperbacks in any portrait or landscape dimension, from 3″ x 4″ up to 12″ square.
Hardcover Binding:
A state-of-the-art short-run hardcover binding line ensures superior quality short-run hardcover binding.
Books are perfect bound and cased in for library-quality durability and readability.
Standard hardcover bindings are available in four sizes: 5-1/2″ x 8-1/2″; 6″ x 9″; 7″ x 10″; and 8-1/2″ x 11″.
Superior-quality PUR binding.
Standard features include:

End sheets in natural, white, custom color, or printed.
Square spines.
Foil stamps on spine, front, or back.
Dust jackets with gloss or matte lamination.
4-color case wraps.
Spiral and Drilled Binding:
 For training manuals, reference manuals, workbooks, cookbooks, and other materials that require maximum flexibility, use convenient plastic spiral or wire-o bindings and 3-hole drilled sheets ready for insertion.
Covers:
Paperback covers print on 10- or 12-pt. 

C1S

, all CMYK, gloss, matte, or soft-touch matte lay-flat film lamination.
4/0 are standard, but we can print 4/1 or 4/4, too.
Clients can provide letterpress or silk-screen covers. (Ask us for a template so the spine width is correct.)
For hardcovers, Bookmobile offers dust jackets with 3-1/2″ flaps, a 4-color case wrap, and/or a plain smooth case with a foil stamp.
Paperbacks can include dust jackets and French flaps.
Bookmobile offers many more options, such as colored cardstock for an uncoated look and translucent vellum dust jacket—see our Gallery for inspiration.
Looking for the spine width? Ask us for a cover template. The spine width is also indicated in your quote.
Our formula for spine width is: page count divided by the paper's pages per inch (PPI) + .015625
Titles can usually be typed on the spine, even for poetry titles.

There must be at least 1/16" on either side of the spine's type (for spine width of 3/16", type on the spine is 1/16" high/wide).
For a printed interior of 55 lb. natural 100% PCW at 454 PPI, 86 pages are required for spine width of 3/16″.
Type can be printed on a spine that is less than 3/16" wide, and the type can be higher/wider than 1/16", but it may shift to the front or back cover while binding.
There is a 1/16" tolerance for finished titles (and a 1/8" tolerance for bound galleys and ARCs).
Bar Code:
A standard size bar code (1-3/4″ wide by 13/16″ tall) can be created with a client-supplied ISBN and retail price.
The bar code size can be varied to match a previous bar code or to fit it into the space available.
Bar codes are scanned and checked to ensure correct readings.
We do not provide ISBNs. ISBNs can be purchased from Bowker.
Interior Paper Stock:
45 lb. to 100 lb., cream/natural and white, or coated white, for halftones or a color interior.
Many stocks are recycled and FSC certified; ask us.
Check out current paper stock and options list here.
No need to spec grain correct; we'll always get it right.
Add heft with colored end sheets for hardcovers and paperbacks.
Finishing:
Shrink-wrap.
Poly bag.
Bar code stickering.
Add a CD and envelope to the inside back cover.
Bind in a CD sleeve.
Add a QR code.
3-hole drill.
Insert press releases.
Don't see what you want? Ask us.
Proofs:
Choose no proofs, digital proofs (PDFs via Stacks, our online print run manager), or printed proofs.
New publishers must see printed proofs.
Clients with color or quality concerns, or clients who send multiple file revisions, must see printed proofs.
Printed proofs are unbound.
Interior proofs are collated and trimmed to size, and are on the stock and from the printer to be used for the final run.
Cover proofs are laminated, and are on the stock and from the printer to be used for the final run.
Shipping:
Proofs are sent via UPS next-day air unless otherwise specified.
Books are shipped UPS Ground unless otherwise specified.
Clients with loading docks can receive freight shipments.
Turnaround:
To Order:
Contact us for a quote.
Once a quote is approved, we send an order form and a link to upload files.
When we receive that information, we respond within 24 hours with a schedule and an invoice.
Quotes:
If shipping costs are not listed, shipping is not included in the quote. To receive an estimate of shipping costs, please supply the destination's zip code to your customer service representative or in the Anything else? section of your quote request. "FOB Minneapolis" means shipping costs are not included.
If any books are shipped within Minnesota, sales tax is applicable. If books are for resale or clients claim nonprofit status, please fill out an ST-3 form.
After proofs, any changes made are billed at an additional $80.00 per hour. Please keep in mind that even for a publisher to add a comma to one page, files must be run through preflight and set up for press again.
Any changes to the specifications (page count, trim size, etc.) in the quote will change the cost.
Have more questions?