Bookmobile is officially moved in at our new building, 210 Edge Place, Minneapolis, MN 55418. I love the new place! We started our move in mid-May, and were completely out of our old address by June 30th.
The new place used to be a printshop, so it's perfect for us–we're on one floor and production is all together. In the previous space, you could tell that as our business grew, we expanded and spread out or squeezed in where we were able.
As you can imagine, it's a big deal to move a printshop and warehouse! In the printshop, we like to have at least two of any machine or printer we buy or lease. We do that so if a machine breaks down, we can simply move a print run or binding job over to a working machine–without switching any parameters.
Those same reduncies helped with the move by allowing us to keep producing books during the transition–we started with moving half the interior printers, cover printers, laminators, binders, and trimmers into the new building. Once those were running smoothly, the rest of the equipment made its way over, so we were never 100% down. It was tough to track and organize, but it happened and we continued to ship out books every single day.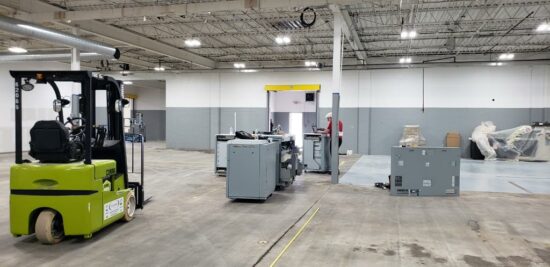 From our Director of Operations, Dieter Slezak:
Moving into the new building at Edge place allowed Bookmobile to re-layout the print shop from scratch into a more efficient workspace. The interior and cover print departments are now located next to each other and feed production materials directly into the bindery. The paper path from receiving rolls and pallets to the shipping of the finished books has been significantly simplified.

Together with further planned automation in the bindery we are planning to produce more books faster for years to come.
And here's a quick tour of the new printshop space!
Other perks are, a bigger break room that can accommodate vending machines, we're kitty-corner/cater-cornered from the lovely Hi-View Park, and close to all the independent restaurants and breweries of Northeast Minneapolis. And on the way out of our new location, we get a very nice view of the Minneapolis skyline!