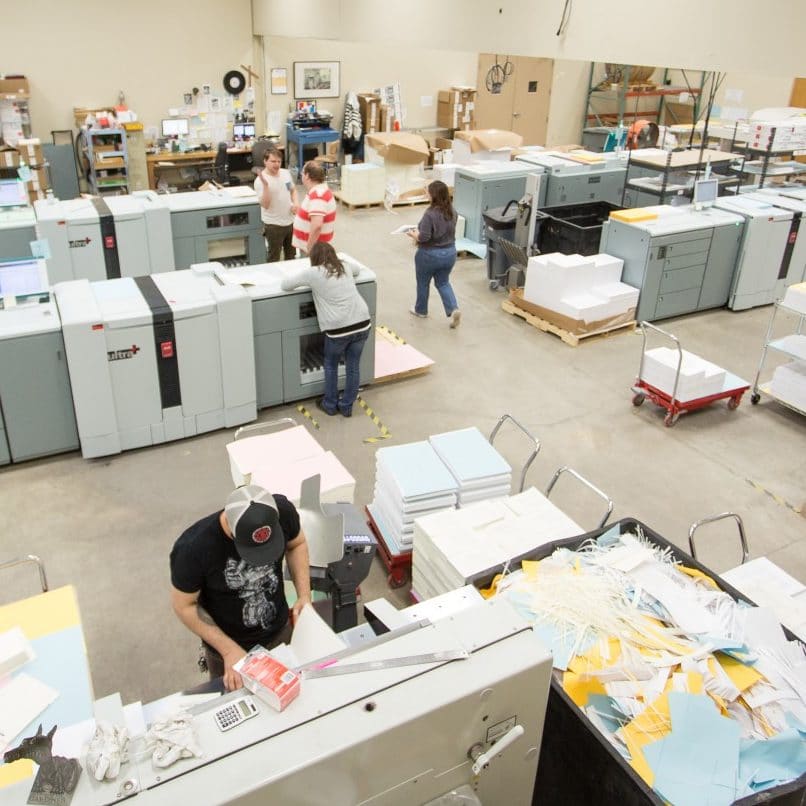 About Bookmobile's Printing Services
Bookmobile's book printing and graphic design services are based in Minneapolis, Minnesota, where all services are done in house by one of our seasoned specialists. Bookmobile provides a vast array of options to meet each book's needs. We also offer hands-on quality control on every book processed. Below is a snapshot of the services Bookmobile offers book publishers. New clients should contact Bookmobile for a quote.
25-copy minimum order.

Convenient quoting, ordering, and print history online.

Email

service@bookmobile.com 

for a username and password.
Book Printing Options:
Choose any trim size—from 3″ x 4″ to 12″ x 12″ and anything in between.

Choose landscape orientation.

Take advantage of our Inventory Management Program. Inventory is held in our warehouse and we fulfill clients' drop ships through individual orders, Excel file uploads, or API feed. Clients view and replenish inventory as needed.

Receive bound galleys fast.
Ask us to handle galley mailings.

Ask us to insert press releases.

Choose 4-color interiors.

Choose 4-color inserts.

Choose fold-out inserts in color or black-and-white.

Choose translucent vellum inserts in color or in black-and-white.

Choose from a wide variety of paper stocks, including recycled options, and coated and uncoated paper, from 50 lb. to 100 lb.

Have covers, interiors, and halftones scanned.

Take advantage of price breaks, the more book you print, the lower the unit cost.

Choose from a variety of bindings, including perfect bound, PUR, hardcover (perfect bound and cased in or PUR and cased in), plastic spiral, wire-o, and 3-hole drill.
Choose French flaps.

Choose duplexed covers, either 4/1 or 4/4.

Choose dust jackets on hardcovers and paperbacks.

Choose hardcovers with printed cases.

Choose gloss, matte, or soft-touch velvet matte lay-flat film lamination.

Choose 10- or 12-pt. C1S covers.

Choose colored card stock covers for an uncoated look.
Choose colored end sheets to paperbacks.
Choose to add printed end sheets to hardcovers.

Choose headbands for hardcovers.

Choose foil stamps in gold, silver, white, or black, for hardcover cases or paperback covers.
Choose embossing and debossing for dust jackets and paperback covers.
Provide letterpress or screen-printed covers for binding.

Have extra covers printed for marketing or archive purposes.

Bookmobile scans backlist titles.

Bookmobile scans interior pages and covers—black-and-white halftones are scanned and adjusted, color images are scanned and adjusted.

Bookmobile provides OCR (optical character recognition).

Bookmobile creates bar codes from client-supplied ISBNs and retail prices.

Bookmobile adds bar code stickers to plain case hardcovers for libraries.

Bookmobile adds shrink wrapping and poly bagging.

Bookmobile inserts press releases and does fulfillment and drop ship (just upload Excel file address list).
Design & Typesetting:
Cover design.

Interior design.

Page layout.

Connection with a skilled freelancer for copyediting, indexing, or proofreading.
Catalog design and layout for publishers and distributors.
Offset Printing:
Bookmobile offers a broker service for large or complex print jobs that are a better fit for offset printing.
eBook Conversion:
PDF files or printed books can be converted.

Bookmobile offers three target formats: EPUB, MOBI, and web-ready PDF.

Conversions are done offsite, but Bookmobile quality checks files at its Minneapolis office.

For visual books, Bookmobile provides a custom quote for a fixed-page layout.
eBook Distribution:
Bookmobile sells to Ama

zon, Apple, Barnes & Noble, Google, Kobo, and Overdrive.
Direct-to-Consumer Services:
Bookmobile interfaces with client websites to provide easy print sales.
Itasca offers order fulfillment to consumers and to the book trade.
Itasca provides warehousing, disseminates metadata, and manages sales to consumers through the Itasca website.
When books are distributed by Itasca Books, the titles are available to Amazon, Barnes & Noble, Ingram, Books-A-Million, and more.