When the Florida Institute of Technology (FIT), located in Melbourne, FL, had an idea to commemorate their 60th anniversary as a university with a high-end coffee-table book, Bookmobile was happy to partner with them to achieve their vision with our design, typesetting, and offset printing services. The result, titled 60 for 60, features 60 of the university's prominent alumni in a beautiful book, produced in both hardcover and softcover versions. 
Design and Typesetting Services
The Florida Institute of Technology approached us with just a rough idea of what they wanted their commemorative book to look like. They wanted a book that would command attention and intrigue, something sleek and modern that looked polished and professional sitting out on a table. With a large 10" x 10" trim size and many spreads with full bleed photos, Bookmobile was able to deliver this vision.
This project was a true collaboration between Bookmobile and FIT. Throughout the design and typesetting process, many different ideas were discussed for how certain spreads would look best, and FIT leaned on our expertise in book design and production to deliver the most readable yet visually intriguing layout. 60 for 60 is organized by decade and includes six different timelines that highlight some of the university's important historical events. Along with profiling sixty notable alumni (who went on to become scientists, astronauts, pilots, athletes, CEOs, and military professionals), it pays tribute to the university's past presidents who led FIT to achieve greater success, academic achievement, and notoriety in the science and tech fields.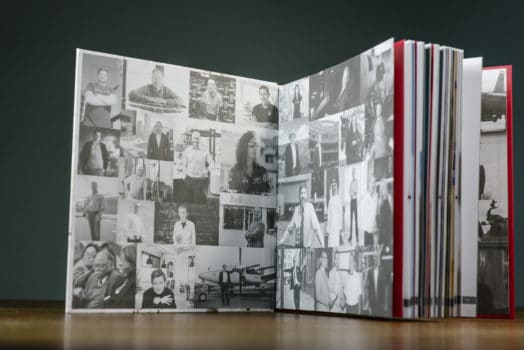 Offset Printing Services
In addition to design and typesetting, Bookmobile secured competitive offset printing for FIT. The university decided they wanted to print both a hardcover and softcover version of the book (called a split run, where both versions have the same interior), and offset printing provided the best price for their needs. Printed 4-color on high-quality 100-lb. matte white paper, 60 for 60 includes striking full-bleed images with beautiful and vibrant color output. The hardcover features a printed case with matte lamination, a gold foil stamp on the spine, and black and white printed endsheets. The softcover features a matte laminated cover on 10-pt. stock.
Cindy Berger, Alumni Engagement Officer at FIT, said about partnering with Bookmobile on this project:
With just an idea of an anniversary publication, a book project was handed off to our alumni team to deliver printed copies in an incredibly short window. After interviewing several publishing candidates, we discovered Bookmobile and knew they would be our perfect partner. Armed with only a scant outline, the team at Bookmobile understood our vision, delivering brilliant design templates and typesetting. As the content became fleshed out, the interior became more refined. A true partner, Bookmobile sourced offset printing to deliver a higher quality product at a lower price. If anyone is facing a book project and unsure of their next steps, we highly recommend the team at Bookmobile. They will walk you through the publishing landscape and explore all options so you can create the best book possible.
We are happy to have been an integral part in this important anniversary book!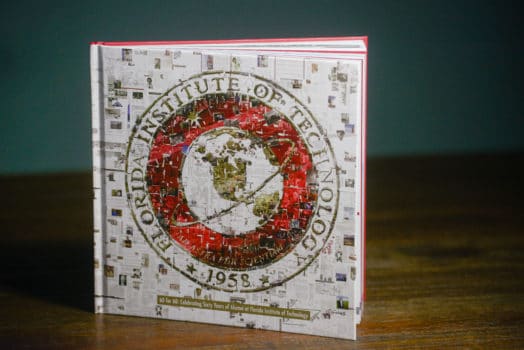 ---
---