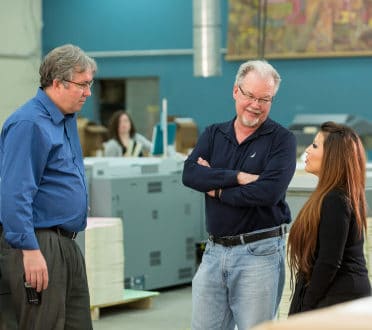 About Bookmobile Printing Services
Serving Book Publishers Since 1982
Based in Minneapolis, Minnesota, Bookmobile provides book printing, graphic design, and other resources to support book publishers in an ever-changing environment. Superior quality, excellent customer service, flexibility, and timely turnarounds have attracted over 1,100 satisfied clients to Bookmobile, including trade houses, university presses, independent publishers, museums, galleries, artists, and more.
Bookmobile's Quality and Options
Bookmobile was founded in 1982 as a typesetting house for book publishers, but it soon expanded into a full range of services. Bookmobile launched its Print-on-Demand services in December of 1996, and it remains a pioneer in book production.
There's no need to choose between standard or premium quality at Bookmobile—all books are of the highest quality, and books are never produced sight unseen.
Each Bookmobile book run includes exceptional quality control standards ensuring that each book meets over 60 criteria during the production process. These stringent production standards produce the highest quality books. Bookmobile also offers innumerable production options, including a variety of paper stocks and trim sizes, from 3″ x 4″ to 12″ x 12″. Unlike other short-run printers, Bookmobile can produce French flaps, color inserts, foldout inserts, embossing, debossing, printed end sheets, and more. Check out the Bookmobile Gallery for options and inspiration, and contact us for a quote.
Customer Service
Bookmobile responds to client inquiries within 24 hours with quotes, schedules, production queries, and answers to any questions. Bookmobile's customer service representatives draw on over 35 years of experience and give every book the attention and care it deserves. Get started with a quote!
Employment
Want to join our team? Looking for job openings? Contact our Human Resources Manager, Rossanna Castellanos.
---
Milestones
August 2023
Bookmobile offers custom slipcases for hardcovers and paperbacks
June 2022
Bookmobile, Itasca Books, and Artmobile move to 210 Edge Place, Minneapolis, 55418
November 2021
Bookmobile prints book

12,775,723.
June 2021
Bookmobile launches Artmobile, an independent marketplace for unique books. 
October 2019
Bookmobile adds saddle stitch as a binding option (discontinued in April 2023)
September 2018
August 2018
Cardozo Fine Art publishes the historic republication of Edward S. Curtis's

 The North American Indian

, 

with Bookmobile as the printer and binder
January 2018
October 2017
May 2017
September 2016
Bookmobile installs a Xerox 1000i color printer to increase our capacity for

 

art book printing.
December 2015
November 2015
August 2015
Bookmobile adds a PUR binder for fine art and photo book printing.
June 2015
Bookmobile increases its 

trim size

 maximum to 12″ x 12″ for custom paperback and custom hardcover printing.
May 2015
March 2015
February 2015
November 2014
August 2014
Bookmobile launches new logo, brand, website, and tag line, "Craft digital."
November 2013
November 2012
Bookmobile installs new foil stamper, which allows production of large-area foil stamps for hardcovers and paperbacks, and embossing or debossing dust jackets and paperback covers.
June 2012
Bookmobile partners with

 

Ware-Pak

 

to provide Automatic Print Replenishment to clients.

Read about Bookmobile's most successful client, Barcelona Publishers,

 

here.
April 2012
Bookmobile's first website goes live for

 

CarTech Books.
Read about our solution for CarTech here.
August 2011
Bookmobile's first ACS4 (Adobe Content Server 4) client goes live to sell Digital Rights Management-protected eBooks from their website.

Bookmobile is a licensed ACS4 provider. ACS4 gives publishers the option of Direct-to-Consumer sales of eBooks from their own website, with copy-protection provided.
August 2010
Bookmobile's first app for

 

Hazelden

 

goes live.

Bookmobile distributes Hazelden's apps

.

Read about one of Hazelden's most innovative and successful apps,

 

Field Guide to Life.

Bookmobile develops the

 

Bookslinger

 

app for

 

Consortium Book Sales and Distribution.
November 2009
October 2009
Bookmobile prints book 4,000,001.
June 2009
June 2008
April 2008
Bookmobile CEO Don Leeper receives

 

Kay Sexton Award

 in recognition of his long-standing dedication and outstanding work in fostering books, reading, and literary activity in Minnesota.
April 2007
Bookmobile prints book 2,000,001.
November 2005
Bookmobile prints book 1,000,001

Bookmobile introduces hardcover binding line.
April 2005
December 1996
Bookmobile launches digital book printing operation.
January 1984
Bookmobile begins acting as a

 

print agent

 for literary and scholarly publishers.
March 1982
Bookmobile founded as Stanton Publication Services to provide

 composition

 

for university presses.