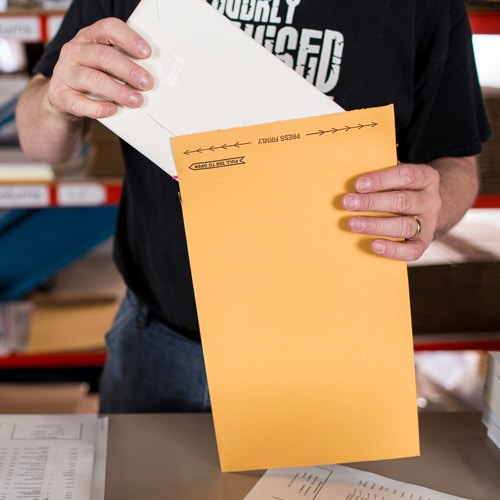 Dropshipping
Print-on-Demand Benefits, Bookmobile Quality
At Bookmobile, we are passionate about every aspect of the printing process. A book funneled through a production line that relies on bar coding and is never seen by human eyes will never match the quality Bookmobile achieves printing short runs with our experienced staff monitoring quality. Our Dropshipping  combines the benefits of POD with Bookmobile quality.
Add additional sales with Direct-to-Consumer website orders and make your review copy mailings easy! With Bookmobile's dropship services, place a print order for as many books as you need, then upload your orders or mailing list. We'll take care of the rest. 
With our Stacks Printing and Dropships Manager, it's easy to order reprints, manage inventory, and view all of your dropship orders.
Our Dropship Book Printing client list includes many successful publishers, for example:
OR Books utilizes Dropship Book Printing for their Direct-to-Consumer sales.
Polity Press, a UK publisher, utilizes Dropship Book Printing to print and mail

review copies

in the US.
Wayne State University Press's Journals Division utilizes Dropship Book Printing to print and fulfill their journal subscriptions.
With Bookmobile's Dropship services, clients can also take advantage of Bookmobile's many options, like French flaps, foil stamps, and more. We custom fit our process to our client's needs–including accepting books printed elsewhere (offset, backlist, etc.).  
Features and Benefits
Maintain minimal inventory at Bookmobile, avoiding storage fees.
Receive discounts on bulk orders and larger print runs.
Fulfill orders automatically from distribution system, website, web form, or custom feed.
Drop ship to distributors, consumers, subscribers, or special sales customers.
Drop ship for office copies or events.
Drop ship from Excel mailing lists uploaded to Bookmobile's Stacks Print Run and Order Manager for review copies or subscriptions.
Enjoy more options while maintaining minimum inventory levels.