Bookmobile now offers saddle stitch printing and binding! We can saddle stitch comics, zines, booklets, pamphlets, and magazines. Besides artist exhibition catalogs and fine art photography books, we print many comic books, mini comics, and graphic novels at Bookmobile. While we can perfect bind as few as 16 pages, we wanted to add the option of saddle stitching for our comic book clients—as saddle stitching is the traditional binding method of a comic book— and offer it to publishers and artists printing BLADs, catalogs, and magazines.
What Is Saddle Stitch?
Saddle stitch is an economical and simple binding—the printed pages and cover (though we can saddle stitch without a cover, as a self-cover) are collated, cut, and folded to form the finished book. Why saddle? The collated sheets are draped over a saddle-like form. Our saddle stitcher folds the pages and it's stapled twice. Our saddle stitcher does a face (righthand edge) trim too for a clean and finished edge.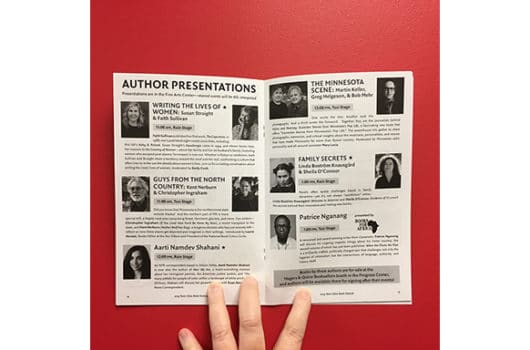 When to Saddle Stitch
Our first saddle stitch printing job was the Twin Cities Book Festival program (shown above). We saddle stitched 2,500 copies without a hitch—5-1/2″ x 8-1/2″, 28 b&w pages on 60 lb. white, with a four-color cover on 10 pt. C1S. In the past we've perfect bound the program (it's an annual event), but with a low page count it was great fit for saddle stitch. With saddle stitching, pages open completely flat, so festival attendees could easily reference the program's map of the exhibitor space and schedule of events.
Comic books have traditionally always been saddle stitched: it's cost-effective, works well with low page counts, and it's lightweight. Saddle stitch is also a good fit for BLADs, catalogs, pamphlets, magazine, booklets, and more!
Saddle Stitch Printing and Binding Specs
16 to 40 pages (page count must be divisible by 4)

5-1/2″ x 8-1/2″ to 8-1/2″ x 11″ trim size (portrait trim sizes only)

Heaviest cover stock: 10 pt. C1S

Heaviest interior stock: 70 lb. uncoated white or natural

Self-covers available

Two wire staples
Ready for saddle stitch pricing?